Your shopping cart is empty!
Organic Serrano Ham 'Grand Reserve' (Boned) - Luis Gil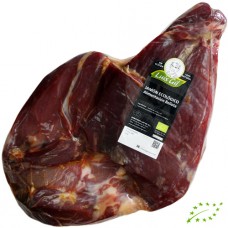 Brand:
Luis Gil
Product Code:
1612101
Availability:
In Stock
Price:
235.07€
Ex Tax:

213.70€
Organic Acorn-Fed Serrano Ham 'Grand Reserve' (Boned) by Luis Gil

Luis Gil products are 100% Organic, and are made from their own herd of pigs. These pigs are bred in freedom at their large eco-farm called 'El Encinar de Ocon', located in a protected area of the Ocon Valley in La Rioja (Spain).
All Luis Gil's pigs are thoroughbred animals, strong and healthy, and are adapted to the land, with the ability to live in freedom, permanently integrated with the environment. Their feed is completely natural, and includes acorns provided by Holm oaks from the eco-farm produced during the last months of the year. This diet is supplemented with organic, pesticide-free feed, which is rich in phytosanitary products and non-transgenic grains and oilseeds.
As a result, these products are of exceptional quality, very tasty, healthy, rich in protein, and guaranteed to be 100% natural.
Curing: 20 Months (minimum)
Presentation: Boned ham, individually vacuum-packed.
Ingredients: Ham, Salt
NOTE: Regarded the Second Best Organic Ham in Spain by the Spanish Tasters Union
Write a review
Your Name:
Your Review:
Note: HTML is not translated!
Rating:
Bad
Good
Enter the code in the box below: