Your shopping cart is empty!
Mixed-Fed Iberian Ham '5B' (Boned) - Estirpe Negra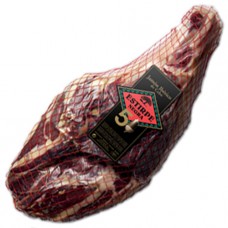 Brand:
Estirpe Negra
Product Code:
1110201
Availability:
In Stock
Price:
265.82€
Ex Tax:

241.65€
The Mixed-Fed Iberian Hams '5B' (Boned) by Estirpe Negra are made with the hind leg of prime Iberian Pigs, which are carefully selected from pig farms in Extremadura (Spain). Here, the pigs are reared semi-extensively on the largest expanses of 'Dehesas' (grazing pastures) found on the Iberian Peninsula.
These hams are the result of an on-going quality-improvement project over the past 20 years, in collaboration with Iberian pig farmers, under the control and supervision of Estirpe Negra, as well as several animal nutrition companies. This project is aimed at improving the quality and bouquet of these hams, by using a special diet based on cereals and other natural ingredients.
This results in the Iberian Hams '5B' having a more fluid and healthy fat, which is streaked throughout the meat, a better aroma with a smooth intense flavour, a fine texture, and at the same time, being low in salt.
Also available as a whole ham.
Presentation: Vacuum-packed boned ham.
Curing: 29 - 36 Months
Write a review
Your Name:
Your Review:
Note: HTML is not translated!
Rating:
Bad
Good
Enter the code in the box below: