Your shopping cart is empty!
Anchovies in Extra Virgin Olive Oil (10/12) - Don Bocarte (120 g)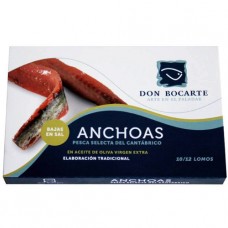 Brand:
Don Bocarte
Product Code:
5665201
Availability:
In Stock
Price:
16.23€
Ex Tax:

14.75€
'Don Bocarte' produces only anchovies from the Bay of Biscay...
The period for catching the top-quality young sardines on the Bay of Biscay is April, May and June, which is when 'Don Bocarte' purchases this highly-prized fish.
They carry out the salting process as quickly as possible, ensuring that the anchovy only takes on the necessary amount of salt essential for its preservation.
After salting, the anchovy is gutted and the head removed for subsequent packing.
The fish are arranged in barrels in a fan-like way, placing a layer of salt between each level.
The anchovies are pressed to remove fat so that they can begin maturing. In their maturing cellars, the fish are left to age for a minimum of 8 months, during which time the temperature and humidity are controlled in order to achieve the characteristic aromas of the 'Don Bocarte' anchovies.
Once the salted fish has obtained its characteristic bouquet and aromas, the anchovy is the cleaned by hand. It is then taken to the filleting room where their highly-skilled staff finish off the process by leaving the anchovies completely clean, revealing their best appearance and texture.
Presentation: Tin with 10/12 fillets in Extra Virgin Olive Oil
Net Weight: 120 g
Write a review
Your Name:
Your Review:
Note: HTML is not translated!
Rating:
Bad
Good
Enter the code in the box below: